BELOW ZERO: A Story of Survival
For five days, Ann Evans and I, along with our sidekicks, Quinn and Ann's Aussie Red, search for wild horses in the Pryor Wild Horse Range. During our time on the mountain, the temperature rarely climbs above zero. In this frozen landscape, we begin our search with special concerns for the three young foals born last fall, Reverie, Ryden and Ruby.
How might they be faring in their white wilderness?
Each morning we drive out to the low country, hoping (in vain) it will warm up before we head up the mountain. Nearly every morning we catch sight of Hickok and his band with Rigel Starr, first born of the Pryor foals in 2017. (Read more about Rigel Starr by clicking here.)
What a lovely chestnut filly. Her uncle, two year-old Quasar, is not too shabby himself. Look at those stripes! (Below Quasar, first born in 2015)
We pass deer browsing in the junipers and mountain mahogany near the far end of the Dryhead, and nearly every morning we spot Fool's Crow and Johnston's bands near each other on Mustang Flat at the very end of the horse range.

And on one (the only one!) sunny morning Hidatsa's band is with the other two.
Although we spend time glassing, we never see Blizzard who lost his band to an injured Hidalgo who in turn lost the band to Hidatsa who was at the right place at the right time.

I hope Blizzard is alive. Like his grandfather, Lancelot, he is a colorful, signature stallion of this part of the Pryor Wild Horse Range. I took this picture of Blizzard in November. He was stiff and thin but still bright-eyed and attentive.
As we drive to the base of Tillett Ridge, a coyote dashes away at the edge of a cattle pasture. And everyday seems like a hawk convention. Beautiful rough-legged hawks, birds of the far north, have arrived for winter. They perch in the cottonwoods "glassing" for prey—cottontails or mice or voles.
They never let us get very close and fly off when we drive by.
Near the bottom of Tillett many horses are visible beyond the Administrative Pasture toward the mouth of Big Coulee and beyond, on the benches above the mouth of the Canyon.
Through our spotting scope we identify Garcia, Hamlet, Indigo Kid, and Galaxy's Bands along with anonymous distant dots. We spot Bolder's pale palomino son, Echo, on Turkey Flat with at least one other bachelor on our first morning. This seven year-old Cloud grandson is unmistakable through the scope.

I've blown up this photo so I hope you can see Echo to the left of a dark bachelor.
Kristen Collett joins us on day one and we unhitch and follow her ATV in our reliable UTV. As always we stop to glass from below the mines hill. We can see a light colored barely visible horse to the left and slightly below the mines. "Jewel?" We set up the scope to verify it is Bolder's pale buckskin daughter in the bushes. "Is that Ruby behind the bush?" I whisper hopefully.
 
Quickly we drive on, determined to verify what we think we are seeing. Kristen hurries ahead on her ATV and phones us. "Pride is near the road around the bend on the north side of the mines. . .alone!"
Quickly we follow and are photographing him within minutes of the call. He looks wonderful but so very lonely. Occasionally the colt looks out over the stark white landscape. His stepfather, Mescalero, has kicked him out. A maturing Pride likely made inappropriate advances to one of the mares and Mescalero ran him off!
I wonder if Pride knows there are horses below him? We can see Jewel, little Ruby and the rest of Horizon's beautiful band. From a distance the tiny filly looks fine as does her mother.
Lft to Rt -Horizon, Galena, Demure, Ruby and Jewel-not pictured Hopi and Quintasket.
By the time we drive back down the mountain, it is nearly dark and bitterly cold.
Day Two brings more surprises. Nancy Cerroni joins Kristen, Ann and I plus Quinn and Red . We're excited to spot Doc's band beyond the low water catchment on the hill near Big Coulee canyon. We leave the dogs in the UTV and begin hiking. Firestorm eyes us warily. Doesn't she look amazing in her dark winter coat and grey mane?
Cloud's daughter, Jasmine blocks her foal from our view as do the other mares including Brumby and Jas's older sister Firestorm. It's as if all the "aunties" and his grandmother, Aztec, are protecting their little prize. (Below, Ryden following Aztec with Firestorm and Jasmine following Ryden protectively)
Rather than disturb them more we hike back to the UTV. Ryden is alive and seems well. We're thankful for this, but it would be nice to get a good look at him. Back in our vehicles we head up toward the mines hill when we spot Echo and Lobo trotting uphill. Cloud's grandsons are clearly on a mission!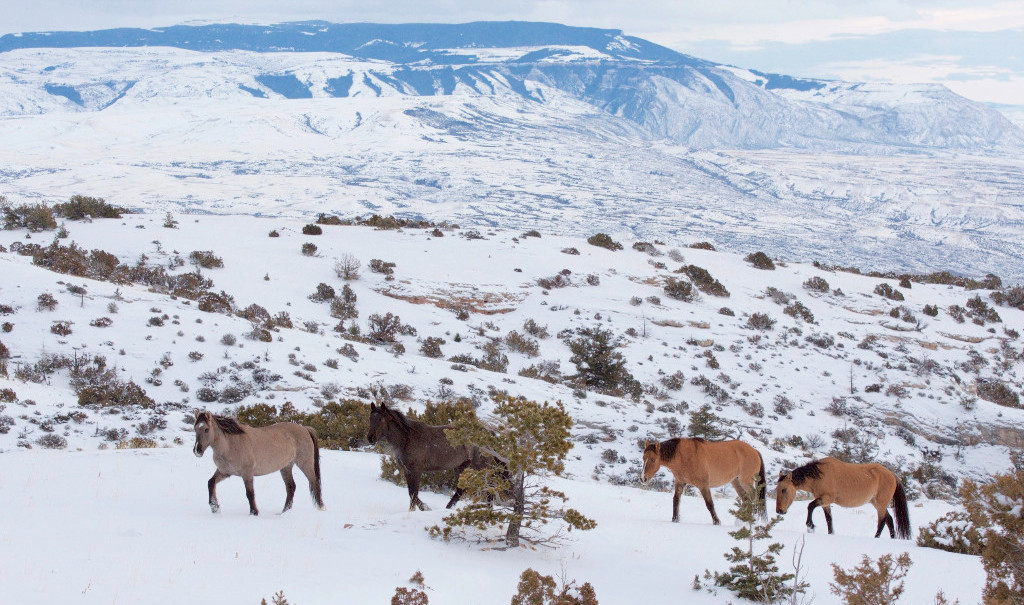 Then in front of them, we spot others. It is Morning Star's band, but pulling up the rear is Flint's son, Jasper. He has stolen Morning Star's band of mares including Hitalli and her little daughter Reverie! They march uphill past us with Reverie in the rear and then Jasper, slowly and patiently following the filly foal up hill.
Then we spot Echo and Lobo again, marching up the mountain. They are clearly dogging Jasper and look as though some kind of battle has already taken place. Echo has hair missing on his back and sides and Lobo has a wound on his flank. (Echo lft, Lobo rt)
Jasper's behavior reminds me of Cloud when Jasper's father, Flint, was a little injured foal, driven too fast and too far in a helicopter roundup years ago. Cloud followed a limping Flint all the way to the very top of the mountain. I was proud of Cloud just as I am now of Jasper. (lft Jasper with a wound on his hip and side follows Reverie)
Jasper looks back, knowing full well the bachelors are coming. He along with the mares and Reverie, with Echo and Lobo dogging, disappear on the back side of the mines and we never see any of them again. So, this mystery remains unsolved. . . for now.
Day Three: It begins to snow as Ann and I and our canine companions travel up snowy Tillett Ridge road once again. Overnight there looks to have been a mass exodus from the higher country down to the desert. There are tracks everywhere. At the bottom of the red hill we see Doc's band again. They are making their way down, heading into a canyon that will dump out near the mouth of Big Coulee Canyon. Ryden appears to be keeping up with ease. What a tough little guy I think to myself.
We head up the red hill and then toward the mines where we glass at distance dots that will forever be unidentifiable horses. However, one distant dot is unmistakable. Encore! I whisper as we focus the spotting scope. She is on the side of a distant hill with Knight and Outlaw Lady. "Maybe they'll move toward the road, "I say hopefully. But our wish did not come true.
On the way back down, just past the mines, Pride appears. The pictures and video of him in the falling snow are some of my favorites. It is hard to imagine a more beautiful colt.
Now, Pride needs to find some friends! He paws through the snow, nibbling and looking around. We wish another bachelor might wander through---anyone to keep him company. Where is Jackson when you need him? Or maybe Firestorm's bachelor son, Okomi? Watch Pride Here.
Day Four: It is snowing in earnest as Ann and I and the dogs head back up Tillett Ridge. We pass through rocky walls where the horses have been digging for minerals, approaching an ideal place to glass up and around the mines. From Ann's right there is movement!
A band emerges from the falling snow onto the road in front of us and we stop.
It is Doc's band again, trotting away from us on the road and we follow. To my left I can see two horses watching Doc from a hill. I wonder who they are? Now it is snowing heavily making visibility iffy. Suddenly it strikes me. Two horses!
Could they be Mato Ska and Aurora? Through the driving snow I see the flash of a blaze. It is Mato Ska! They haven't been seen them for months. I shoot video, trying to get shots of the duo while driving, following Doc's band on the road. Suddenly, Doc makes a run at Mato Ska who dashes away with Aurora. Wow! Even though our encounter is brief, it is a thrill to see them still together and both looking so well. High fives all around!! View Mato Ska here!
Doc's band cuts off the road at the bottom of the red hill, foraging in the snow.

I quickly set up our new 4K Camera in the direction where I think they may travel. When they start coming toward us, it is their decision. Gone is the initial wariness and we get great, intimate shots of little Ryden foraging with the mares as the snow falls in buckets.

Enjoy watching Ryden here!
Then we continue up the mines hill, hoping it will clear enough to get a view of the landscape. And it does! The vistas are breathtaking. There are no horses around so the dogs can race around and play. Oh, to have their energy! (Watch here)
It may be sunny but the temperature is dropping like a rock and we head back downhill.
Day Five: Our last day is certainly uneventful compared to the excitement of every other day. The wind has drifted the road but we plunge ahead, backing up once and then gunning the UTV through numerous drifts. We park at the mines pullout and hike the road, much to the enjoyment of Red and Quinn.
Ann and I hope that some of the distant dots might have moved closer. They have not.
We head down the mountain and load up the UTV. It is nearly dark as we drive away. A bald eagle launches from a cottonwood above us. Goodbye dear friends. . .and stay warm!

Happy Trails!
Ginger
P.S. Winter is a tough time for all wildlife but it is also an amazingly beautiful time of year. Here in the Pryors the wild horses need only fear the weather and four-legged predators.

Elsewhere, many of the wild horse herds are not so lucky. Winter roundups are being planned in which wild horses will be driven and terrorized by helicopters. The BLM plans to remove as many as 10,000 wild horses in Nevada.

Please do what you can to help us fight these cruel plans. Go to our website and join as a volunteer. Be part of a solution that would replace cruelty with reasonable, humane management alternatives.

And please continue to contact your Senators and Representatives in Congress.
Our wild horses and burros should not pay the ultimate price for decades of poor management!